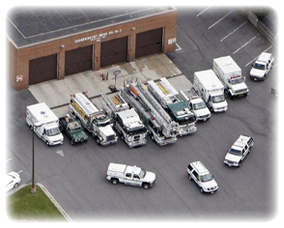 Welcome to the Official Website
for the
Independent Hose Company
Fire & Rescue Station #1
Celebrating Over 200 Years of Service !
The Independent Hose Company is Frederick County Maryland's Fire & Rescue Station #1. We are Maryland's oldest volunteer Fire Company in continuous operation having been instituted in 1818. We celebrated our 200th anniversary in 2018.
We perform the following services for our community: Volunteer & Career Integrated Team, Fire, Rescue and EMS Services, Home of "Tower 1 & Canteen 1", Fire-EMS-Rescue support to Ft Detrick and Community Event Support.
We have rich history as Maryland's oldest volunteer fire station in continuous operation. We have many awards and memorabilia on display in our station.
If you would like to donate to IHC, you can use the Donate button below or check out our Online Store where you will find IHC memorabilia for sale as well as an option to Donate. Your donation is greatly appreciated and helps us to provide high quality fire suppression, emergency medical care and rescue services to our community.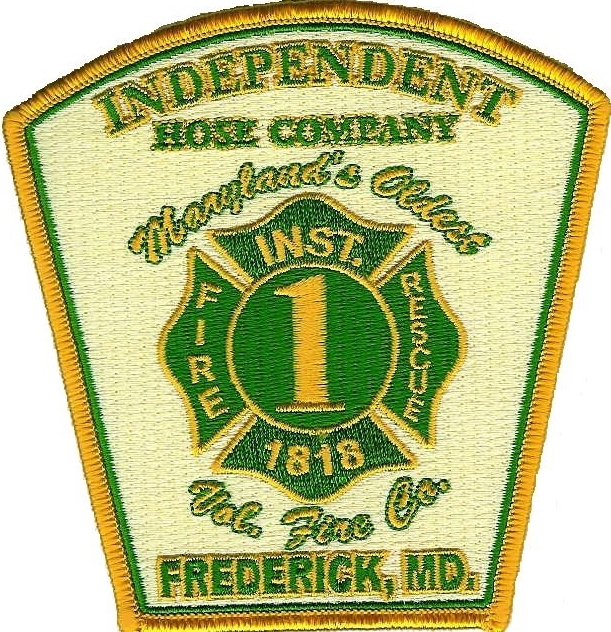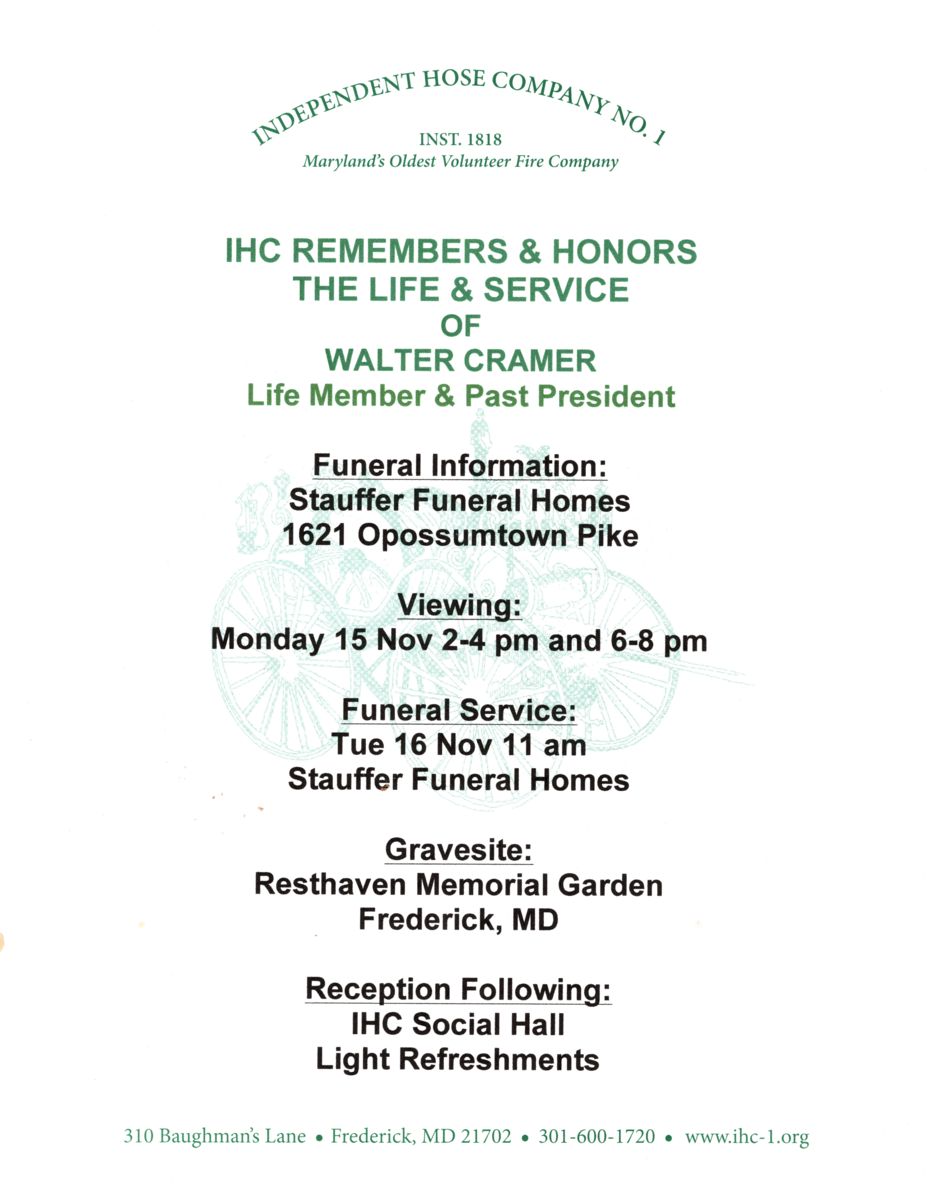 Come Join Us for Breakfast with Santa on 5 Dec 2021 !!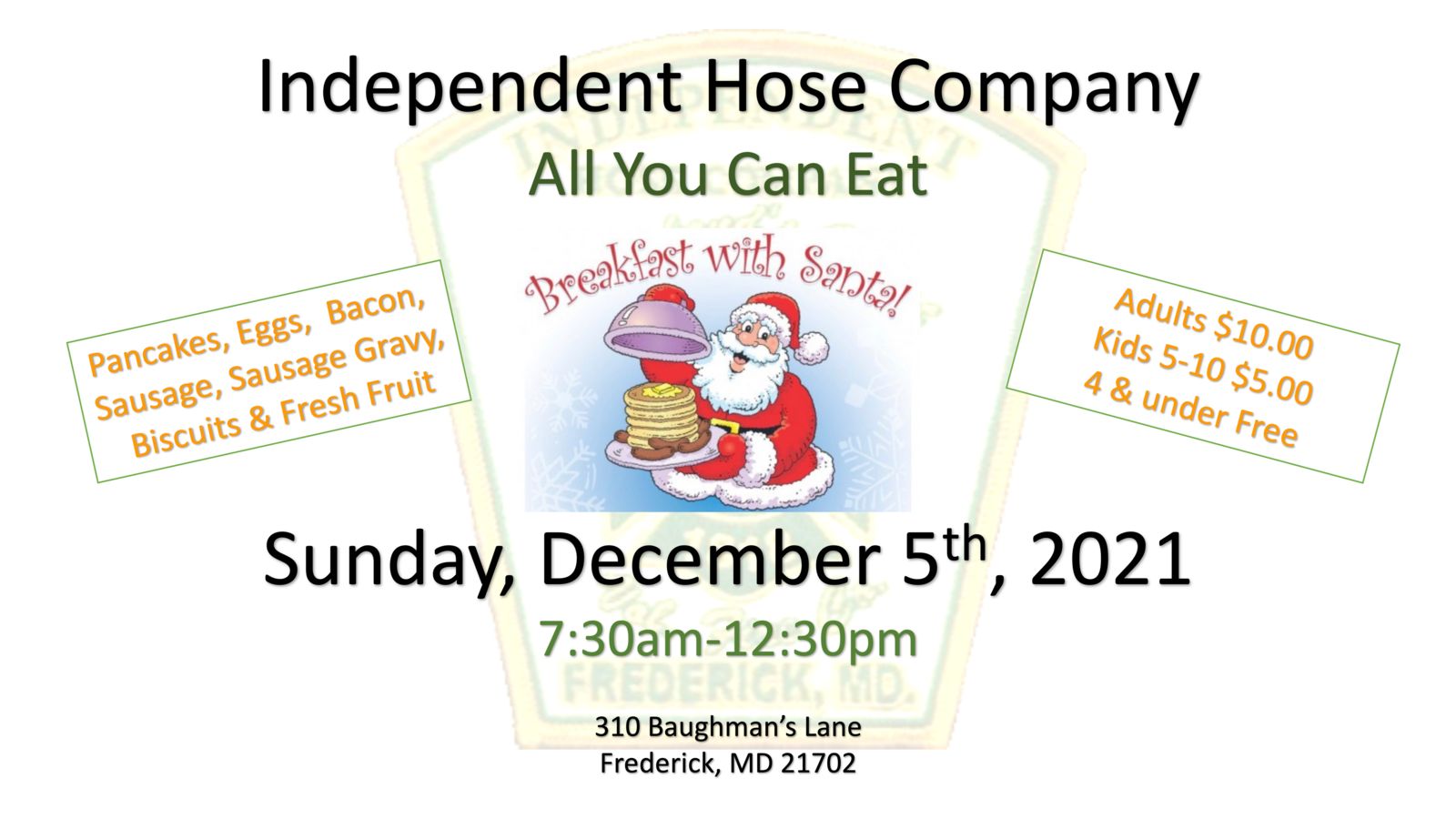 IHC CHRISTMAS TREE SALE
2021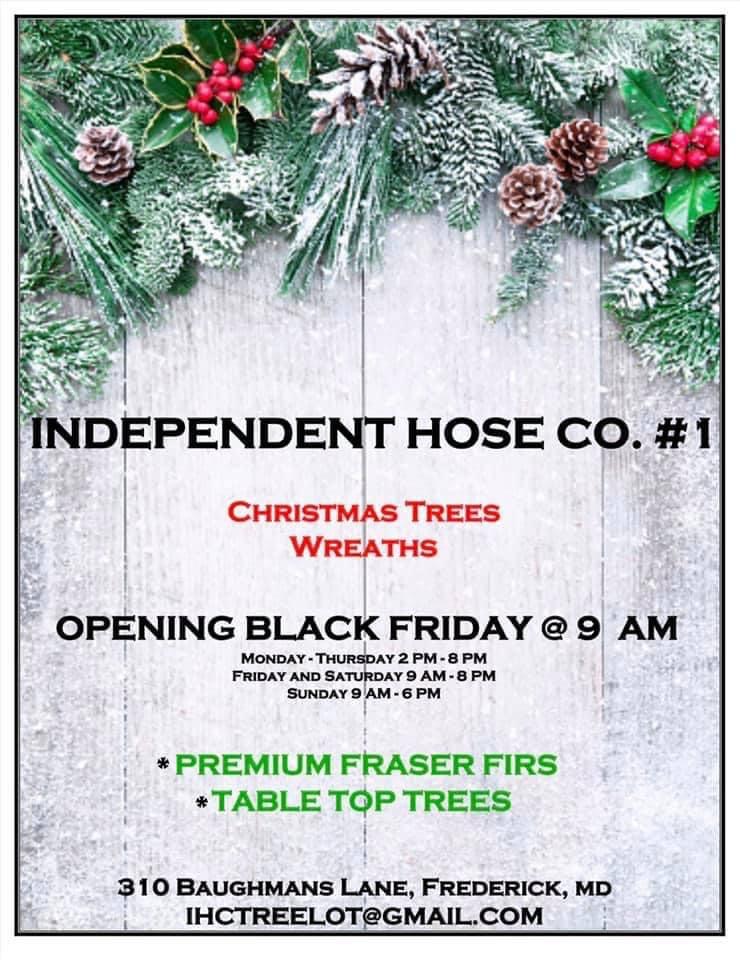 ** Please note - We apologize but tree delivery & roping will not be available this year

We thank the community for your support over the past several years with donations of re-cyclable items. Unfortunately, as of Jul 21 we have suspended this program and will no longer accept donations. Again, thank you for your support of IHC !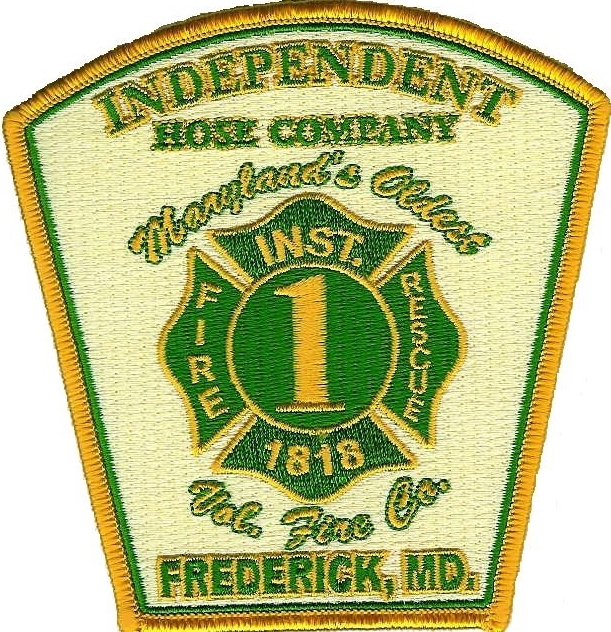 Independent Hose Company renders honors.

Lieutenant Andrew Wood, October 03

Members of Independent Hose Company raise a flag over 15 Northbound. Family members of Fallen Firefighters passed under the flag this morning on their way to National Fallen Firefighter Memorial services.

Flag raising is one of many ways to show honor. And the members of Independent Hose Company were honored to render this honor.

Photo credits K. Mahoney NREMT... (Full Story & Photos)

Mission BBQ comes to Frederick

Firefighter III/EMT-B Bobby Wells, April 22

Independent Hose Company supported the soft opening of Mission BBQ. Company 1 put on display it's classic Hose Reel and what a great success this was. We appreciate the support we receive as first responders and to our military Mission BBQ shows. An absolute bonus the business bring to our growing communities. ... (Full Story & Photos)

Gear Committee Meets with Vendors

Captain Nathan Martin, January 22

Today the gear committee met with representatives from Lion, Morning Pride, and InnoTex to get more information and demo the latest products. The gear committee has been charged with reviewing, specing, and ultimately procuring turnout gear for our members. This initiative has been funded using monies approved by the Board of Directors and is in response to the insufficient amount of vouchers for ... (Full Story & Photos)

Thank you Troop 470

Firefighter III/EMT-B Bobby Wells, December 14

Zachary Dorris from Troop 470 delivered his Eagle project to Independent Hose Company 1 members today. Zach oversaw the building of 2 chess tables that can be used outdoors at IHC Shookstown Civic Center. Several Scouts from Troop 470 participated in the project. Members from IHC were present at Shookstown to accept the chess tables. Great job Troop 470, we appreciate your hard work and your commitment ... (Full Story & Photos)

SANTA Visits Whittier

Firefighter III/EMT-B Bobby Wells, December 14

Santa makes his visit through Whittier with a little help from Rudolph, his elves, and some traffic control by IHC. It's always great to get out to the community and to let them know we're always ready to serve. We hope were on the nice list!... (Full Story & Photos)

IHC Supports Local Boy Scout Troop

Captain Nathan Martin, February 17

Members and Career staff at Station 1 assisted a local Boy Scout Troop with their First Aid and CPR skills. Community service is a big part of what we do. Big thanks to all that came out to support this cause. ... (Full Story & Photos)